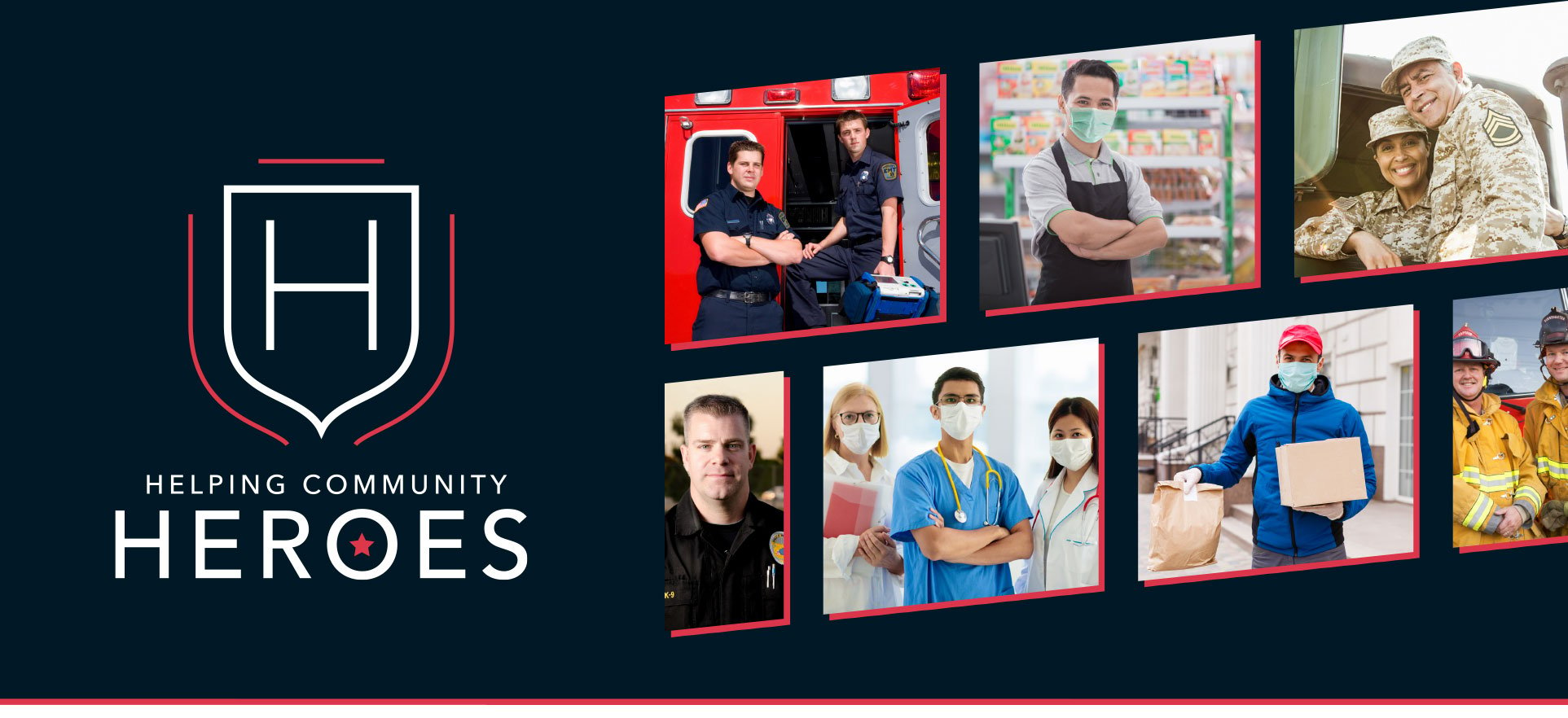 Helping you make housing more affordable
with a ¼% interest rate reduction, free.

To say "thank you" to our essential heroes we will buy down your interest rate by ¼% on your next purchase, and if you have a home to sell, we will offer you substantial SAVINGS as well.

We appreciate that amid COVID-19, First Responders, medical providers, and other essential workers have put everything on the line. To serve you in return, our First Team Family of Companies is making it possible for qualified heroes to take advantage of up to tens of thousands of dollars in SAVINGS when we pay for you to buy down, and reduce your interest rate by ¼% for your mortgage financing for up to 30 years.

Here are the
Possible SAVINGS Examples:*
30-Year Fully Amortized Fixed-Rate Mortgage
with

¼%

Interest Rate Buy Down:

---
$34,278

SAVINGS

on $700,000 Loan Amount
$29,381

SAVINGS

on $600,000 Loan Amount
$24,484

SAVINGS

on $500,000 Loan Amount
$19,587

SAVINGS

on $400,000 Loan Amount

Since 2017, First Team has offered a similar savings program to military households and has been recognized as the #1 contributor to this program nationwide by Leading Real Estate Companies of the World®, the largest network of independent brokerage firms in the U.S.
Take advantage of this program to have us buy down your interest OR apply your substantial SAVINGS directly toward closing costs.
Save TWICE when you buy and sell a home through this limited-time offer.
We thank you for allowing us to stay safe at home.
Now trust us with yours.
For more information on taking advantage of this limited-time offer, contact me.

First Team® Real Estate
Founded in 1976 in Orange County, First Team has been trusted by 250,000 Southern California households for real estate sales and purchases. As a local family-owned business, we are big enough to have the resources and small enough to care.
Homeowners First Mortgage
Homeowners First Mortgage offers hundreds of loan choices to our customers, with our strength rooted in the knowledge and experience of our loan officers. Many of our loan officers have been in the industry for decades and have successfully handled all types of home buying situations. Our team is experienced, professional, and readily available to our customers to answer any questions, address issues, and help them navigate through the mortgage process smoothly.

*Offer provided by First Team Real Estate and may be withdrawn at any time, with or without notice. Offer subject to cooperation of independent brokerage and agent members of the MLS on co-op transactions and consumer's use of First Team Real Estate's affiliate, Homeowners First Mortgage, LLC for financing. Maximum loan amounts apply. Discounts and saving promoted here are estimates only as of 05/6/2021, are based on a market interest rate of 3.25%, and do not bind First Team Real Estate or any of our affiliates. By way of example, a home with a purchase price of $1,000,000 with $700,000 financed at 3.25% / 3.277% APR and borrower-paid closing costs of $2,400 would result in $34,278 in interest savings over a 30-year term. First Team Family of Companies consists of essential services of escrow settlement, title insurance, real estate brokerage, and mortgage finance services. You are advised to seek your own counsel from your accountant or legal advisor. 108 Pacifica, Irvine, CA 92618. Lic# 01008773. © First Team® Real Estate. All rights reserved. This is not intended to solicit a listed property. If your property is currently listed for sale with a broker, please disregard. Financing provided by Homeowners First Mortgage, LLC, 108 Pacifica, Suite 250, Irvine, CA 92618. Corp NMLS#: 1932549 (www.nmlsconsumeraccess.org). Loans made or arranged pursuant to a California Finance Lenders Law license. This communication does not constitute a commitment to lend or the guarantee of a specified interest rate. All loan programs and availability of cash proceeds are subject to credit, underwriting and property approval. Programs, rates, terms and conditions are subject to change without notice. Other restrictions apply.
Testimonials
" Tracy has been one of the most friendly, congenial and efficient agents I have ever worked with in any real estate transaction. She was always ahead of the curve, well almost always/HA!! She always told me what her buyers were looking for so we had confidence that we could respond in an appropriate manner. I would hope to have such an opportunity again. Thanks Tracy. "
- Solon Shaw
" I have had the blessing of knowing Tracy Frasz for most of my life (no exaggeration!).  She has been a friend and a confidant for many years - and is responsible for finding our first house for my wife, Monica, and me,and it was perfect!  Our two boys were born during that time - and that house became a special home.  This was 25 years ago - and yet, today, it remains a pivotal point in our lives. I would highly recommend Tracy because it's more than a career or a job for her, it's personal. You'll be so glad you signed on with the Tracy! I have had the blessing of knowing Tracy Frasz for most of my life (no exaggeration!).  She has been a friend and a confidant for many years - and is responsible for finding our first house for my wife, Monica, and me, and it was perfect!  Our two boys were born during that time - and that house became a special home.  This was 25 years ago - and yet, today, it remains a pivotal point in our lives. I would highly recommend Tracy because it's more than a career or a job for her, it's personal. You'll be so glad you signed on with the Tracy! Mark Tuerffs Yorba Linda  "
- Mark Tuerffs
" "Tracy Frasz is a true professional when it comes to finding and purchasing the perfect home for her clients!  Faced with a unique set of circumstances that came along with the purchasing of our home, Tracy handled the situations with grace and unprecedented professionalism. Knowing that Tracy was our relator, we felt that our best interests were her top priority. When faced with difficulties and detours out of our control, Tracy presented real solutions and gave us her experienced opinion. There is no doubt that Tracy Frasz is at the top of her profession, giving her clients the best experience of purchasing the perfect home." ~ Ben & Tiffany Keys "
- Ben and Tiffany Keys
" This past summer we listed our home in Chino Hills with Tracy Frasz. We could not have been more pleased with the process and the outcome. She held multiple open house events; she had professional photos taken for the flyers and the internet listings. She helped with the staging of our home and made recommendations like repairs and enhancements for listing the property. We always felt that she was dedicated to our sale no matter how many properties she was handling. We were always kept well informed of the progress of our listing and were never left wondering. Her experience and professionalism were evident throughout the transaction. We would recommend Tracy Frasz to anyone in need of a knowledgeable realtor. "
- Norm and Pam Parisien
" Tracy was very diligent and professional throughout the whole purchasing process. We toured over 40 condos together till we found one that I was satisfied with. Throughout the whole search she remained patient and gave me excellent feedback on the properties. She mad me as a first time buyer much more comfortable in this process. "
- Bryan Paranal
" Working with Tracy was a great experience. As first time home buyers, the process can seem overwhelming, but Tracy was there for us and helped us every step of the way. Tracy would always take the time to show us properties and answer any questions that we had along the way. She listened to what we wanted and needed out of our first home and worked with us to find the perfect match! She made the entire process so easy and painless for us. We couldn't be happier with our decision to work with Tracy. We would recommend her to our family, friends and anybody else that is looking to purchase or sell their home. "
- Charles and Alyson U.
" Tracy was great. She went above and beyond. I am rather demanding and she exceeded my expectations. We found a house and closed in less than 40 days. There were no issues in the transaction that she did not deal with quickly and professionally. "
- Mark Minyard
" In spite of many restrictions, Tracy was instrumental in our purchase of the perfect property to relocate our horse ranch.  Her diligence, professionalism, and knowledge of what was truly needed before finalizing the purchase were, in part, the reason we were able to close on time.  (15 days)  We continue to recommend her to others! Jim  Carol Tice, Rocking T Ranch Yorba Linda and Temecula "
- Jim and Carol Tice
" Tracy would get 5 stars from me. I don't think you could find any person to handle the sale of your home who is better than Tracy. Moving isn't an easy thing to do, but Tracy helps to make it easier. She's smart and always thinking ahead. Once she learned I wanted to sell my home and move into a senior living community, she immediately knew who would be interested in buying it. She brought the people to see my home, they loved it, and it was a done deal! Then she helped me sell a few things I couldn't keep. All in all, Tracy is a good person and very dependable and reliable. "
- Sally Montgomery
" As first-time home buyers, we were overwhelmed and intimidated by the very thought of purchasing our first home. After getting connected with Tracy, however, our biggest fears quickly vanished. Tracy's knowledge and expertise comforted us at every turn and we can't convey how much we appreciate her honesty, flexibility and commitment to helping us find our perfect home. Tracy even helped refer us to an inspector she trusted, as well as a termite control company and cleaning crew AFTER closing escrow. She truly took us under her wing and made us feel like family. We will not hesitate to contact her again when we're ready to buy and sell our next home! "
- Mark & Nicole
" Tracy did an excellent job in selling our house in East Lake Village last year. She listened to our concerns about selling and gave us some very helpful hints on what should be done to make the house more appealing to potential buyers. Tracy held many open houses for us and gave us excellent feedback. She always kept us informed on what she was doing and what she thought that would be good to do in the future. We all would sit down to discuss Tracy's ideas and come up with an action plan. Now on buying a single story house she did an excellent job on informing us on a daily basis of the houses that were available that met our requirements. When we finally settled on a house she did everything in her power to get it done. I would highly recommend her to all my friends and family. She worked very hard for us and did a very good job to get the best offer for us. Tracy is very easy to talk to and she makes you feel like you are the only person she is working for at the moment, but of coarse she has other clients. "
- Dave Pokladowski
" Tracy became like family to us as our realtor. She is passionate about what's best for her clients and takes on the adventures of buying a home with confidence. She is knowledgeable and works fast to tailor to her clients needs. We are forever greatful to have found such a great person to work with. "
- Jennifer and Redha Gharsa
" Tracy was very helpful and knowledgable regarding the home she was representing. We were lucky to find an honest and helpful agent. She truly helped us get the house. We already experienced quite a few let downs and not so truthful agencies. It was nice to meet and work with her. "
- Ryan and Claire Hammonds
" We could not be more pleased with Tracy! She was organized, informative and very enjoyable to work with. She listened to our needs, but also expertly provided insight about aspects of real estate that we were not aware of or did not understand. She never kept us waiting, but rather always had pertinent new information to share with us. Everybody involved in the buying process commented on what a pleasure she was to work with. We are so grateful and appreciative that Tracy was our agent! "
- Jamison and Jill Galan
" Tracy was really terrific in handeling the sale of my elderly mothers home. She expertly handeled every aspect from listing though the closing. She is extremely knowledgeable, dependable and a pleasure to work with. I highly recommend Tracy Frasz to you! "
- Stephen M Shultz
" I have known Tracy Frasz for 11 years. When I decided to sell my home Tracy prepared a professional presentation complete with information about First Team, sales record/history and comparable sales in the neighborhood and surrounding area to determine a reasonable sales price. From the beginning Tracy's goal was to make me happy and to do everything she could to sell my home! Tracy was available whenever I had questions and she was agreeable to conducting Open House showings on a regular basis. After 'Staging' my home it sold quickly. The escrow experience was made bearable due to Tracy's continual updates with me on the process. She answered all my questions so that I could fully understand each step. Tracy is a woman of faith who showed integrity and her beautiful character during this very stressful time of home selling! She always had a smile on her face and she has a great sense of humor. I would highly recommend Tracy without hesitation. Sincerely, Mary J. Horsley "
- Mary J. Horsley
Previous
Next